What is Asana?
Asana is a web and mobile application designed to help teams organize, track, and manage their work.
The Consortium will use Asana to track and report on project milestones that were agreed to with NIH. Each component will have monthly meetings with NIH, in which progress towards the component's milestones will be reviewed via Asana.
The project name for the HuBMAP Consortium is hubmapconsortium.org.
Tutorials
Primer: /asana-video-primer
Milestones: /asana-video-milestones
Joining Asana
Project Managers should invite component members (if a PM is not in Asana, please contact help@hubmapconsortium.org)
To invite someone, use the "Invite" button at the bottom of the left-side column and enter their email address
You can also invite people to specific teams by clicking the "+" sign next to the team in the left-side column
HIVE (all) is the Asana "team" that will house milestones
Creating a Milestone Board
Each HIVE component will create a Milestone board using the board layout for a new project.
Name the project after your component
The leftmost column should be labeled Parking Lot (this is where thoughts and ideas that do not fall under a milestone can be kept and perhaps converted to milestones later after consultation with NIH)
Each column after the Parking Lot should represent a quarter (Q1, Q2, etc.) or combinations of quarters (Q1 & Q2, etc.)
Create a tile for each milestone and place it under the column in which it will be delivered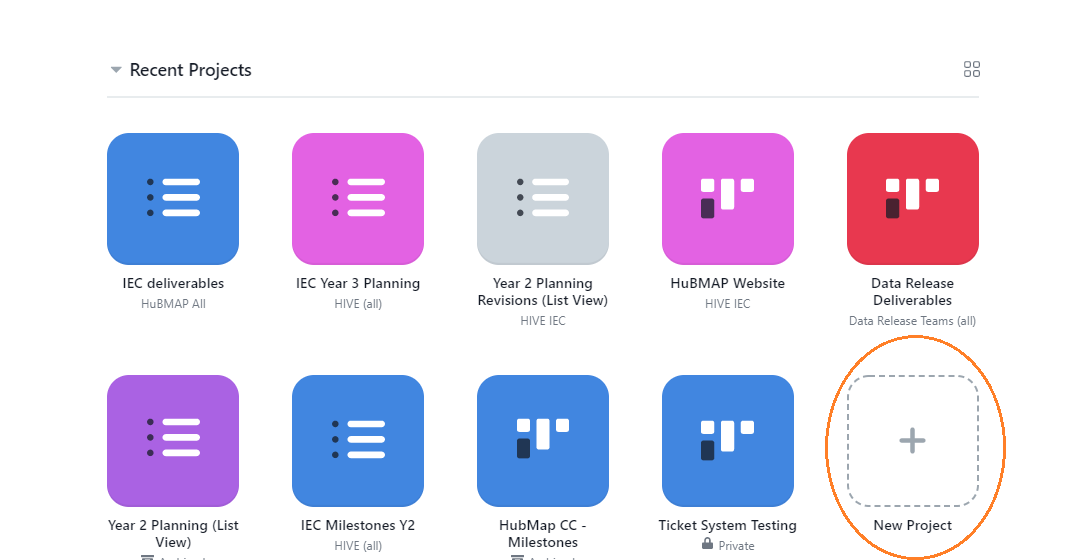 ---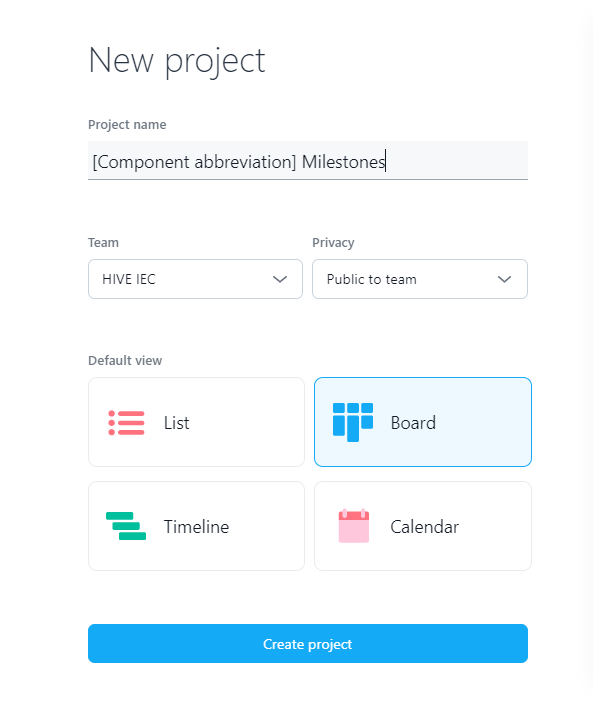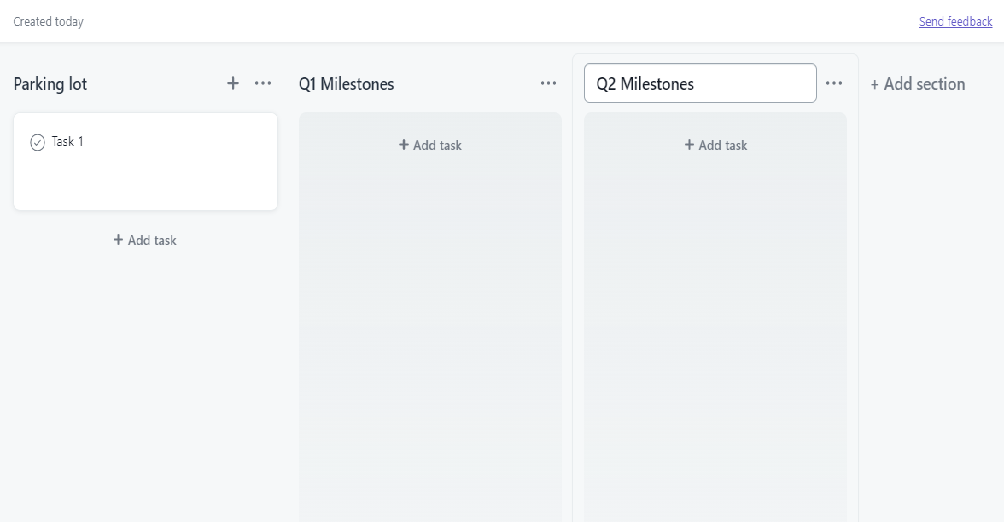 Converting Milestones to Projects
When a milestone is underway, convert it to a project and move that project to your component's personal Asana team (in other words, it should not stay in the HIVE (all) team).
Click the "..." menu in your milestone tile, and then choose View details.
In the details screen, click the "..." menu and then choose Advanced actions > Convert to a project .
After a milestone tile is converted to a project, you can create distinct tasks and subtasks representing work towards completing the greater milestone.
The granularity with which you use Asana after converting a milestone to a project can be decided within your component (the important step is that you do convert it to a project, as this represents that the milestone is underway to NIH)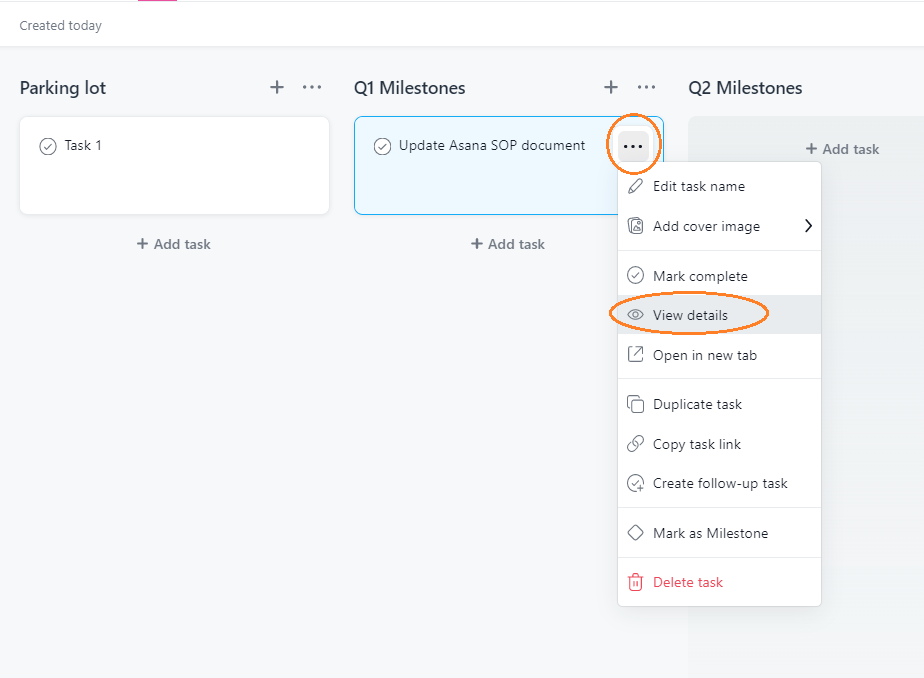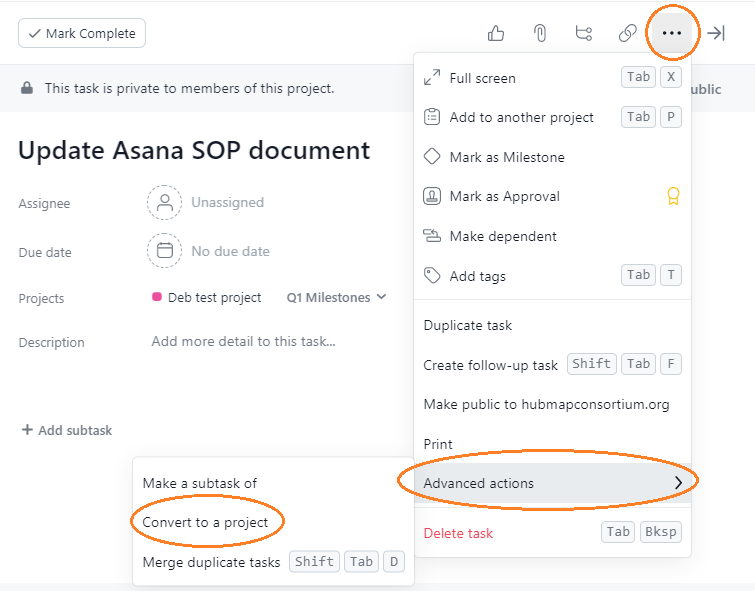 When a milestone is complete
If necessary, add the Tags field to your project.
Add the tag Completed Milestone to signal to NIH that you have delivered this milestone.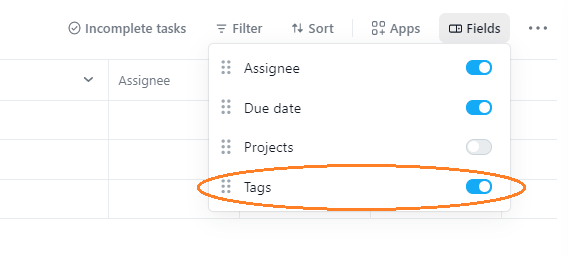 ---
---